The Bunkhouse at NEM is one large community bunkroom.
There are no thrills and frills, but it sure beats sleeping in the back of your car! We offer several beds for the weary climber, hiker, skier or outdoor enthusiast. The bunkhouse also has two community bathrooms and a washer and dryer. On the main level you will find a very cozy community area in front of a beautiful stove where you can chat with NEM guides and other outdoor enthusiasts. We have rental gear, NEM merchandise, and an awesome community of people who share the same interests as you! We look forward to having you stay with us at the NEM Bunkhouse!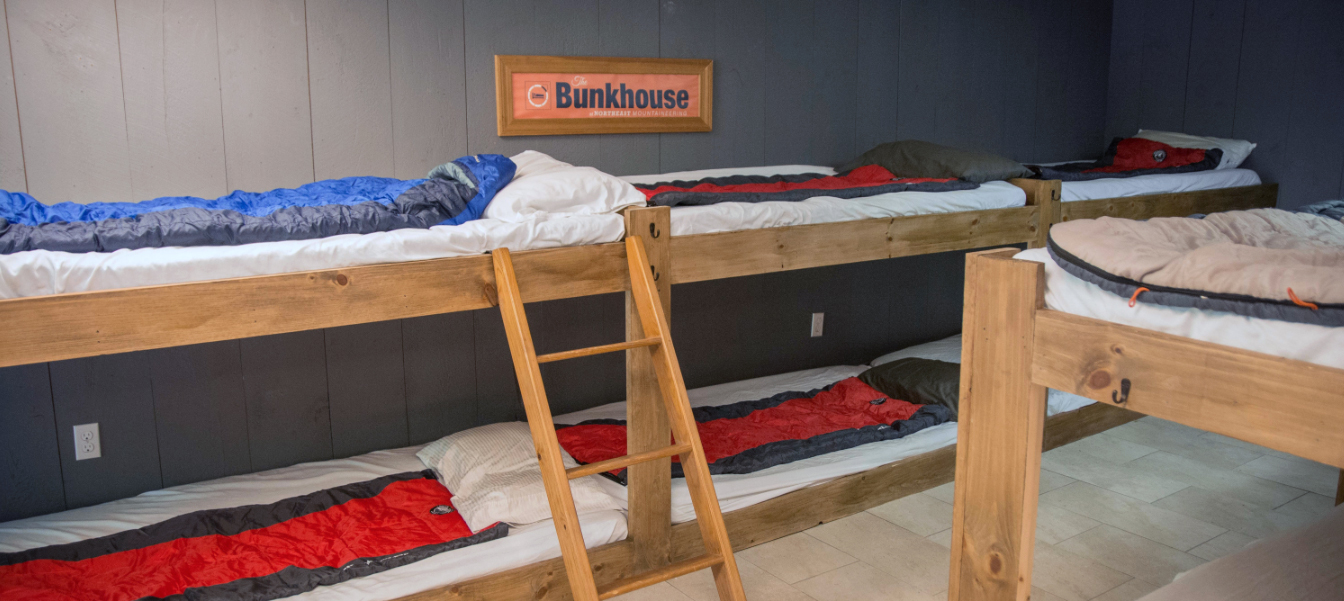 ---
What you need to know
AFFORDABLE
Only $45 per person per night – budget-friendly for the weary outdoor enthusiast
FLEXIBLE CHECK IN/OUT
Coming up after work? Leaving early? No worries.
MORE THAN JUST A BUNK
Fireplace, Common room, Outdoor fire ring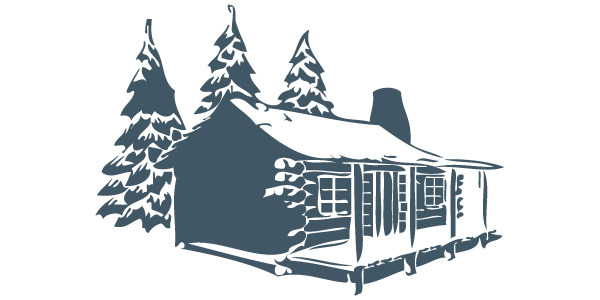 AMENITIES
Heated Bunkroom, Bathrooms, Shower
LUXURIES
Netflix and Wifi Internet
FOOD PREPARATION
Hot plate, coffee maker, microwave, toaster oven and refrigerator
---
Frequently Asked Questions
Where is the bunkhouse located?
We are located at 1054 NH 16 Bartlett, NH. The address does not work well in GPS or online mapping. Instead get directions to Storyland, Glen, NH and continue North on Rt. 16 for 1 mile. We are a log cabin across the street from the Glen Ledge Gas Station. www.bunkhouse.nemountaineering.com/directions/
When is check-in/checkout?
You can arrive between 2PM and 10PM. We do not have a check-in process. Upon booking, you will receive a confirmation email with access instructions and much more info regarding your stay. Checkout is 12PM or earlier. Please arrive before 10PM as a courtesy to our guests in the bunkhouse who may be sleeping.
What amenities does the bunkhouse offer?
We have a community bunk space, two bathrooms, washer and dryer and a shower. On the main level we have a community living room where you can relax or read a book in front of the fire. Also on this floor, we have a coffee maker, microwave, refrigerator and toaster oven for your use. The bunkhouse is fully heated and has potable running water.
Do I need to bring linens?
You will need to bring a sleeping bag or some blankets for the bunk. We do supply a fitted sheet for the bunks as well as a towel for the shower. It is heated so you do not need anything fancy.
Do you have private rooms?
We do not. We designed the bunkhouse to be an extremely affordable lodging option offering a clean, comfortable, and warm place to sleep before or after your day in the mountains.
How long can I stay?
We are a short-term lodging option. Guests are allowed to stay for a maximum of 7 days in a row and not more than 10 days in a single month.
What measures are being taken for COVID risk?
Our innkeeper is on-site and working hard to provide each guest a safe, clean and comfortable stay. Surfaces are disinfected every day.
Cancellation Policy
Payment in full is due upon booking. Cancellations within 24 hours are subject to forfeiture of payment. A full refund will be given outside of 24 hours of arrival.